WATKINS Antique Brass Exposure Meter w Tin Box and Instructions! 1890's Vintage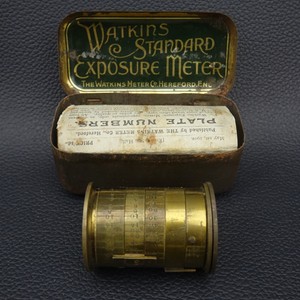 ---
WATKINS Antique Brass Exposure Meter with Tin Box and Instructions! 1890's VintageAlthough we have seen these antique meters for sale we have never seen one with the original tin and instructions. Dials turn smoothly. We have not read the instructions or tested this meter and is being sold for display. If you did want to use this it might work but is being sold as-is. The several pages of original instructions included would be very helpful.

19th-century brass exposure meter with gold plated finish. Watkins Exposure Meter, Manufactured by R. Field & Company, Birmingham. Made c1890s of brass and blue-tinted glass, with integral "pendulum" chain. Light surface wear and mild tarnish, otherwise fine, attractive condition. Measures 6.5cm long.

A striking relic of Victorian photographic innovation. One end is engraved "Watkins Exposure Meter, Patent, Sole Makers, R. Field & Company, Birmingham." The function and use of the device is described thus in the 1896 reference The Encyclopedia Dictionary of Photography : "This little instrument consists of a brass cylinder with movable pointers and scales. At one end is a strip of bromide paper [a strip of which is preserved inside the present example] which is exposed to the light falling on the subject to be photographed. At the same time the other end of the cylinder is unfastened, and being on the end of a chain, is set swinging, each swing representing half a second. The number of seconds it requires to darken the bromide paper to the depth indicated is thus calculated; one of the pointers is set to that number, and the other to the various factors, such as quality of subject (according to table), diaphragm, and speed of plate.This done, the pointer E will indicate the exposure required.

Please look at the 12 pictures closely and judge the condition and content of this lot for yourself as our photos are a large portion of our description. What is pictured is what you get so if you don't see it in the photos it is not included. If you know what you are buying go ahead and purchase but if you have any questions about the item please ask before you buy and we will answer them promptly (usually within an hour).Shipping Information - Ships from Chicago same day as payment with insurance and tracking. Important - Your satisfaction is our number one goal. If you feel we don't deserve positive feedback for any reason please contact us before you leave feedback so we can (and we will) quickly resolve any issues you have.